Improve eCommerce Sale Funnel: What is The eCommerce Sale Funnel?
97.37% of your site's visitors are just shopping around and given the cost of acquiring traffic these days, that is one ugly average but if you don't have to settle for average. Understanding the customer's journey can help you optimize your digital marketing strategies and increase that conversion rate. Before we go dive in deeper, let go through what is the e-commerce sales funnel?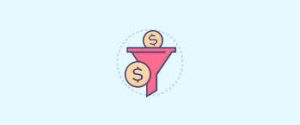 What is The eCommerce Sale Funnel?
By now I assume that you already heard about e-commerce sales funnel, right?
Well, if for some reason you still haven't, an e-commerce sales funnel is an illustrates the process a person has undertaken to go from a potential customer to an existing customer and beyond to retention.
A customer can go through the funnel in a blink of an eye or it takes a month or even a year for them to finally decide to complete the purchase.
The Reason Why You Need E-Commerce Sales Funnel
Let me ask you, do you need eCommerce sales to funnel? Why?
Do you have an answer? If you do, that great! But if you don't, Let me tell you why.
"If you're in business, you're in marketing. And if you're in marketing, you need a sales funnel."- Matt Ackerson, AutoGrow's Founder.
The client and customers are now more discerning than ever. The traditional marketing strategy of pouncing on leads at the first moment of contact will not work anymore. Hard selling is a thing of the past.
A sales funnel gives the customers the freedom to make their own decisions. The "buy me now" strategy will not cut it anymore. Pressuring the customers to buy immediately after making contact will have them clicking the exit button within seconds. If your customer has a great buying experience from your online business, it will translate into revenue for you. A sales funnel can help you achieve business success because of the following reasons:
1. It Increases Conversion Rates
Your product or service is not for everyone. What you need to focus on are the customers that are willing to shell out money for your offerings. As people move down your business's sales funnel, non-targeted individuals will be filtered. The ones that remain are going to buy, thus increasing the conversion rate.
2. It Identifies Problem Areas
A business owner can effectively solve a problem if they can pinpoint the exact areas where the problem took place. A sales funnel can help identify these specific areas. You can trace the stage where a customer left during the sales funnel process and determine the cause for the exit. This data is beneficial in creating the perfect marketing strategy for your business.
3. It Provides Consistency in Sales
Business is a cycle of ups and downs, especially when it comes to revenue. But you can reduce the instances where you only grow revenue by spending on a splashy marketing campaign by putting a sales funnel in place.
A sales funnel will put your marketing activities on autopilot. It will bring new clients and customers without much ongoing intervention from you. There will be less effort but more sales. In the first stage of the sales funnel, there is not much revenue increase. But as the weeks go by, you will notice a significant increase in revenue as leads move down the funnel.