Youtube Marketing: 10 Step Youtube Marketing Strategy
YouTube being touted as the world's second-largest search engine, it is a valuable opportunity for marketers to get their brands and organizations discovered and to connect via video. Your Youtube Marketing Strategy should include:
Audience Research
Creative Content
Partnerships
Links Back to Your Website
Calls-to-Actions
Consistency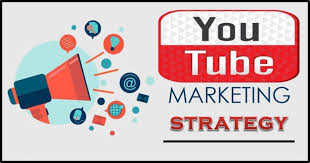 If you're hatching plans to begin marketing on Youtube this year, you need to be savvy about it. Youtube has more than 50 million content creators churning out videos regularly, so your own content has to stand out.
Another challenge? Reaching and engaging your core audience.
The majority of Youtube viewers aren't huge fans of advertising, so you'll have to think carefully about how you're going to raise awareness about your brand while keeping viewers entertained.
Here, we outline 10 Step Youtube Marketing Strategy:
Step 1: Create A Youtube Channel For Business
Create your Youtube channel using a regular Google account, only one person(the Google Account holder) can log into that channel. By creating your Youtube channel using a Brand Account, multiple authorized Google Accounts can log in simultaneously. Youtube channels have a lot of moving parts, so you'll want at least one or two other people to help run the show.
Step 2: Learn About Your Audience
If you have a Youtube channel for business. It gives you access to the Analytics tab, which contains a ton of stats related to your channel. What you will find in the Analytics tab is quantitative insights on your channel and your audience's behavior, including your view counts, average watch time, revenues generated, and interaction rate across videos.
The Analytics tab also contains valuable data on your subscriber demographics. Even if you think you know who your subscribers are, pay close attention to what you find under the Demographics tab. This data will help you move beyond assumptions and feel confident that you're reaching the right audience.
Step 3: Research Your Competition
Competitive analysis is essential if you want to pull ahead of other businesses in your niche on Youtube. Fortunately, a lot of the information you need to identify potential opportunities is readily available on their channels.
Read competing for video descriptions to see what keywords they're using in their Youtube search optimization. Use similar ones to boost your ranking in Youtube's search pages and recommended video feeds.
And please make sure your competitors aren't serving ads on your videos! If they are, it's possible to block them in Google's ad manager.
Step 4: Learn From Your Favorite Channels
When you're watching Youtube on your own time, ask yourself:
What about this video that holds my attention?
What keeps me coming back to my top channels?
Paying attention to your favorite Youtubers will reveal the techniques and best practices they follow to drive views, subscriptions, and engagement. Even if they're not technically within your business niche, it's possible that you can adapt your favorite Youtubers' strategies to increase your own YouTube following.
Step 5: Optimize Your Videos For SEO To Get Views
Your Youtube videos need to be optimized for search if you want to get the most value out of them. But don't worry if your first few videos fail to gain a lot of traction. You can work on tweaking and perfecting your Youtube SEO over time.
Step 6: Upload And Schedule Your Videos
Once you've created a few well-optimized videos, it's time to put them into the rotation.
So what's the best way to schedule your Youtube videos?
Be professional and share content on a regular schedule. If you promise your subscribers they're getting a new video every Saturday at noon eastern, you have to commit to that, or risk losing their trust and their views.
Step 7:  Optimize Your Channel To Attract Followers
After you've optimized your videos, you'll need to optimize your Youtube channel itself. By providing a consistent experience across your channel, you'll be able to bring in more views, and more importantly, convert those views into regular subscribers.
Step 8: Try Youtube Advertising
Your Youtube channel isn't the only place people can see your content. If you've got the funds, you can also pay for Youtube advertising. Youtube ads come in six varieties, some of which I touched on already earlier in this article:
Skippable video ads
Non-skippable video ads
Bumper ads
Overlay ads
Display ads
Sponsored cards
With Youtube advertising, the key is to produce relevant, engaging content that makes viewers forget they're watching an ad. Generally, that means keeping things short, entertaining, and hyper-targeted.
Step 9: Try Working With An Influencer
The best way to showcase your products on Youtube is by working with an influencer. Reach out to influencers who already know and trust your brand. Most Youtube fans are savvy enough to recognize a paid partnership, but if the influencer is honest and upfront about their love of the brand, the "sponsored" aspect won't matter.
Step 10: Analyze And Adapt
So, you've built up your Youtube channel, you're publishing content regularly, and forging partnerships with influencers and other creators in your field. Congratulations! But you're not done yet!
Maintaining and growing your Youtube channel requires constant monitoring. Whenever you publish a new video, check YouTube Analytics for:
Significant changes in subscriber count
New or changing audience demographics
Video playback locations and traffic sources
Device reports (mobile, desktop, smart TVs, etc.)
The best way to learn exactly what your audience thinks of videos and your channel as a whole is to read the comment!