Graphic Design For Business: Why Graphic Design Important For Business
Graphic design is a form of communication between your business and your audience. In short, graphic design for business. Business uses graphics in every stage of the marketing funnel to inform, delight, and eventually persuade to purchase.
You may craft a flyer design to inform your audience about an upcoming workshop, design an email series to upsell a service to a current customer, or crate sales pages for a  new product release.
"If you're in business, you're in the business of graphic design."
Let's dive into the topics, shall we?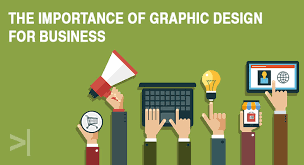 [Photo Source: kaizendesignstudio]
These Reason Why Graphic Design Is Important For Business
Let's look at 5 reasons why graphic design is important for any business including yours, to expand brand reach and turn more profit.
1. First impressions matter
Graphic design is important for any business wanting to make a positive, lasting impression. The first time a visitor interacts with your brand in any capacity will set the tone for the rest of your business relationship.
The first business graphic a prospect encounters may be a business card, a sales page on your website, an online ad, a flyer, your latest social media post, or even your product packaging. Capitalize on the first step of the buyer's journey by implementing relevant, updated graphics that tell the story of your brand (hint: you may need to give your Facebook a facelift).
When a customer hears about your brand for the first time, they are most likely going to do some preliminary research on your website before making a purchase. What does your website homepage say about your brand? Are there bright, cheery colors with whimsical fonts? Or did you use sleek, professional design elements with gray and silver hues?
Take a 'tour' of your business website and social media pages, updating any graphics that no longer accurately represent your brand or brand message.
2. Enhance Sales
Thoughtfully created graphic design pieces that can help boost up sales. People are attracted to any uniquely designed thing. They get a message from a quality design. The message may be that the company owning the design delivers high-quality products or services.
People get such messages indirectly in their minds when they see a unique logo design, business card, and other such designs. This helps bring people closer to the business's time and again.
Once the gamut of graphic designs has successfully made a positive impact on viewers, many of them become loyal customers. This is because graphic design marketing items help in projecting a company as a trustworthy brand. Surely, graphic designs have a lot to do with the steady growth of a company.
3. Consistency is credibility
Graphic design is important for any business wanting to create credibility in their industry or field. The more content you provide that helps solve a problem or relieve a pain point, the more the audience will trust your advice and start to regard you as an expert in your field.
To demonstrate this point, let's say you're walking in the park and see a basketball player sink a 3-point shot. It was a great shot, but would you assume he's a great basketball player because he made one basket? Probably not; it could've been a lucky shot. If you had seen the same player sink 30 shot in a row, though, you might start to believe he's actually a professional basketball player. Consistency creates credibility.
The same principle applies to marketing and branding; if you create a piece of content that helps someone solve a problem or relieve a pain point in their own life, they will most likely turn to you for advice again when facing a similar situation in the future.
Consistent content creation is the key to building a dedicated following of people who trust your brand and believe in your message.
4. Establish Company Name
Graphic designs are also helpful in establishing a company's name in their niche market. When we see an attractive logo, again and again, it reminds us of the brand behind the logo. Similarly, advertisements, websites, business cards are the designs we all see on a daily basis.
All these designs refresh our memories of the brand. This helps us recognize the brand name.
Small businesses do not usually have enough marketing budget. They find it difficult to get brand recognition in their niche markets. But a uniquely designed logo, business card design, and other marketing items can immediately catch the attention of people. The designs thus enable companies in establishing their names in the market.
5. Efficiency in summary
Graphic design is important for any business looking to share information with ease. Infographics are a great way to summarize information that your audience would otherwise skim over or skip reading completely. Humans are heavily influenced by visuals; adding relevant graphics to text can deepen our understanding and recollection of information.
"Infographics actually have 3x more liked and shared on social media than any other type of content." – Hubspot Reports 
6. Build Goodwill In The Market
It's also a great tool for earning trust and goodwill in the market. If a logo design or any other graphic design is of good aesthetic value, it fills the viewers with confidence. They have faith in the company's products or services if its design elements appeal to the senses. Gradually, an attractive design will help win customers and many of them become loyal to your business.
A company can highlight its products with the help of graphic design. Whenever a company launches a new product, it prepares for a new marketing campaign. The campaign projects the products in a new light. For that, graphic design services are needed to give an image to the products.
7. Creativity kills competition
Graphic design is important for any business looking to slay competition in the marketplace.
With all of the free online design tools available today, it has never been easier to create quality content. This low barrier to entry in the content creation world is a good thing for those looking to build a brand; it does, however, come with the lofty price of new competition.
To step ahead of competitors in the marketplace, you've got to get creative.
Create content that approaches an idea, solves a problem, or relieves a point in an innovative way. Graphic design can be used to empathize with the audience by literally showing the audience what life would look like and feel like with pain point x solved by your product, service, or advice.
8. Convey A Brand Message
Graphic design is also a good means of conveying a specific brand message to target customers. A professional designer first wants to know about the message the design should deliver. A brand message makes the design useful.
The designer picks specific colors and typefaces to evoke an intended emotion. This emotion then becomes the message of the brand to potential customers.
For example, McDonald's logo has red and yellow as the main colors. These colors evoke feelings of passion and raw energy of young people as well as socialization. This is also the message of the fast-food company as its target are young customers.
Do not forget, Bumbu Agency Sdn Bhd provides the following services:
Help manage marketing campaigns
Provide consultations to grow the business
Provides corporate video, montage, or 2D / 3D animation
Produce graphic/video design
Digital Advertising Services
Our company is very experienced in the industry and has a strong portfolio. Contact Mr. Umar at 0176026002 or Ms. Iza at 0108989188 for further inquiries. Email: bumbuagency@gmail.com
Bumbu Agency is very active on social media, follow us!