Bounce Rate : 7 Reasons Your Website Can Have a High Bounce Rate
What Is Bounce Rate?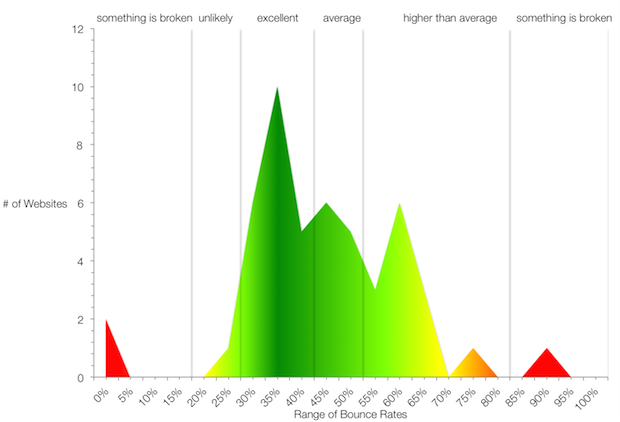 Bounce rate refers to the percentage of visitors that leave your website (or "bounce" back to the search results or referring website) after viewing only one page on your site.
Based on the data they gathered, they provided a bounce rate grading system of sorts:
25% or lower: Something is probably broken
26-40%: Excellent
41-55%: Average
56-70%: Higher than normal, but could make sense depending on the website
70% or higher: Bad and/or something is probably broken
The overall bounce rate for your site will live in the Audience Overview tab of Google Analytics.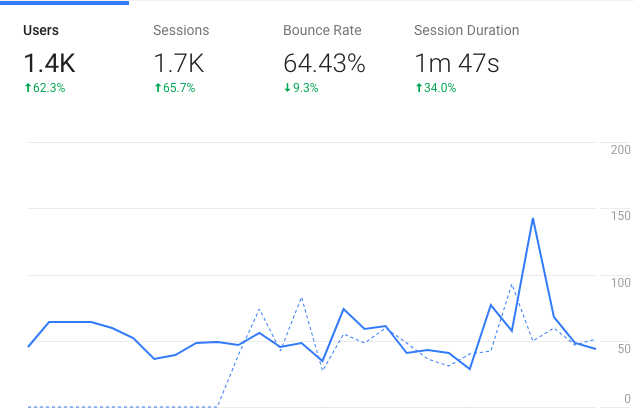 There are a number of reasons your website can have a high bounce rate.
1. Slow-to-Load Page
Site speed is part of Google's ranking algorithm, so it's just good SEO to focus on it. Google wants to promote content that provides a positive experience for users, and they recognize that a slow site can provide a poor experience. If your page takes longer than a few seconds to load, your visitors may get fed up and leave.
2. Self-Sufficient Content
If the user is spending a couple of minutes or more on the page, that sends a positive signal to Google that they found your page highly relevant to their search query. If the user is spending less than a minute on the page (which may be the case of a properly optimized landing page with a quick-hit CTA form), consider enticing the reader to read some of your related blog posts after filling out the form.
3. Misleading Title Tag and/or Meta Description
Is the content of your page accurately summarized by your title tag and meta description? If not, visitors may enter your site thinking your content is about one thing, only to find that it isn't, and then bounce back to whence they came.
4. Blank Page or Technical Error
If your bounce rate is exceptionally high and you see that people are spending less than a few seconds on the page, it's likely your page is blank, returning a 404, or otherwise not loading properly.  Take a look at the page from your audience's most popular browser and device configurations (e.g., Safari on desktop and mobile, Chrome on mobile, etc.) to replicate their experience.
5. Bad Link from Another Website
It's possible you could be doing everything perfect on your end to achieve a normal or low bounce rate from organic search results, and still have a high bounce rate from your referral traffic. The referring site could be sending you unqualified visitors or the anchor text and context for the link could be misleading.
6. Low-Quality or Under Optimized Content
Visitors may be bouncing from your website because your content is just plain bad. The other possibility is that your content is poorly written overall or simply isn't something your audience cares about. Consider hiring a freelance copywriter or content strategist who can help you revamp your ideas into powerful content that converts.
7. The Page Isn't Mobile-Friendly
Websites that haven't been optimized for mobile don't look good on mobile devices and they don't load too fast, either. That's a recipe for a high bounce rate. Even if your website site was implemented using responsive design principles, it's still possible that the live page doesn't read as mobile-friendly to the user.